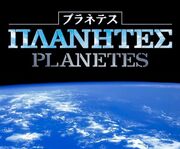 Planetes (in japanese プラネテス Puranetesu, in Ancient Greek Πλανήτης) was a Japanese hard science fiction television show which aired on NHK from October, 2003 through April, 2004. It was made up of 26 episodes adapted from the manga of the same name. It was about a team of space debris collectors based on the debris ship Toy Box in the year 2075. Both the manga and anime received the Seiun Award for best science fiction series.
Plot
The story of Planetes follows the crew of the DS-12 "Toy Box" of the Space Debris Section, a unit of Technora Corporation. Debris Section's purpose is to prevent the damage or destruction of satellites, space stations and spacecraft from collision with debris in Earth's and the Moon's orbits. They use a number of methods to dispose of the debris (mainly by burning it via atmospheric reentry or through salvage), accomplished through the use of EVA suits. The episodes sometimes revolve around debris collection itself, but more often the concept of collecting "trash" in space is merely a storytelling method for building character development. The members of the Debris Section are looked down upon as the lowest members of the company and they must work hard to prove their worth to others and accomplish their dreams. Ongoing plot elements include an upcoming exploratory mission to Jupiter on the new fusion powered ship, Von Braun, and the lead character's decision to join the mission, no matter the cost. Many other plot threads are also developed throughout the series that help to explain each character's motivations and personalities. The Space Defense Front is a terrorist organization that believes mankind is exploiting space without first curing global problems such as mass famine and the widened socio-economic divide on Earth.
Characters
Main characters (Toy Box crew)
Minor characters
Main article: Minor characters of Anime
Episodes
Main article: Episodes of Anime
Soundtracks
Opening Theme: "Dive in the Sky" by Mikio Sakai.
Ending Themes: "Wonderful Life" by Mikio Sakai and "PLANETES" by Hitomi only in episode 26.
Disk 1
| # | Title | Artist | Length |
| --- | --- | --- | --- |
| 1 | Outside atmosphere | Kōtarō Nakagawa | 2:22 |
| 2 | Dive in the Sky | Mikio Sakai | 4:27 |
| 3 | Jupiter highway | Kōtarō Nakagawa | 2:26 |
| 4 | Urgent mission | Kōtarō Nakagawa | 2:33 |
| 5 | Floating ruin | Kōtarō Nakagawa | 1:53 |
| 6 | Music for universe | Kōtarō Nakagawa | 1:52 |
| 7 | A secret of the moon | Hitomi | 5:03 |
| 8 | My address | Kōtarō Nakagawa | 2:24 |
| 9 | Work with dance | Kōtarō Nakagawa | 1:32 |
| 10 | Circular style | Kōtarō Nakagawa | 2:38 |
| 11 | True stories | Kōtarō Nakagawa | 2:57 |
| 12 | My first experience | Kōtarō Nakagawa | 1:54 |
| 13 | Paradise and cola | Kōtarō Nakagawa | 1:25 |
| 14 | Terrible workplace | Kōtarō Nakagawa | 2:22 |
| 15 | FB | Kōtarō Nakagawa | 1:45 |
| 16 | The enterprise | Kōtarō Nakagawa | 2:07 |
| 17 | Fate of man | Kōtarō Nakagawa | 1:52 |
| 18 | Turn into space | Kōtarō Nakagawa | 1:36 |
| 19 | There is no | Kōtarō Nakagawa | 1:44 |
| 20 | Our world | Kōtarō Nakagawa | 2:10 |
| 21 | Wonderful Life | Mikio Sakai | 4:36 |
Disk 2
| # | Title | Artist | Length |
| --- | --- | --- | --- |
| 1 | Remember Me? | Kōtarō Nakagawa | 1:56 |
| 2 | Thanks my friend | Mikio Sakai | 5:14 |
| 3 | Bingo | Kōtarō Nakagawa | 1:37 |
| 4 | Hoshino's Family | Kōtarō Nakagawa | 2:30 |
| 5 | Wishes | Kōtarō Nakagawa | 2:57 |
| 6 | Make Your Canvas | Kōtarō Nakagawa | 2:04 |
| 7 | Perfect Answer | Kōtarō Nakagawa | 1:49 |
| 8 | Target Loss | Kōtarō Nakagawa | 1:43 |
| 9 | Great Father | Kōtarō Nakagawa | 2:18 |
| 10 | PLANETES [affettuoso] | Hitomi | 3:10 |
| 11 | Flying Anonymous | Kōtarō Nakagawa | 1:32 |
| 12 | United Nations | Kōtarō Nakagawa | 2:35 |
| 13 | Avoid Object | Kōtarō Nakagawa | 1:43 |
| 14 | The Confession | Kōtarō Nakagawa | 1:59 |
| 15 | Turning Sequence | Kōtarō Nakagawa | 1:44 |
| 16 | Our Debris Section | Kōtarō Nakagawa | 2:25 |
| 17 | Dream Space | Kōtarō Nakagawa | 2:10 |
| 18 | Enemy Inside | Kōtarō Nakagawa | 1:53 |
| 19 | God Only Knows | Kōtarō Nakagawa | 2:25 |
| 20 | Be a New Man | Kōtarō Nakagawa | 2:19 |
| 21 | PLANETES | Hitomi | 8:13 |
| 22 | Previous Notice | Kōtarō Nakagawa, Mikio Sakai | 0:29 |